This post is also available in:

简体中文 (Chinese (Simplified))

ไทย (Thai)

한국어 (Korean)
Chlamydia is caused by a bacteria called chlamydia trachomatis and can be transmitted to the cervix, uterus, fallopian tubes, urethra, rectum, eyes and less commonly, the throat. Chlamydia is the most commonly reported bacterial STI in Australia. The problem with chlamydia is that many people don't have any symptoms and don't know they are carrying the bacteria in their body. If left untreated, chlamydia can cause inflammation and scarring in the reproductive tract and potentially lead to infertility.
Signs and Symptoms
Content warning: click to show images of symptoms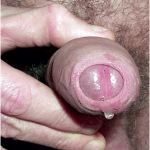 If symptoms do occur, it will usually be within 5-14 days of exposure. Untreated chlamydia can spread to the uterus and fallopian tubes and cause pelvic inflammatory disease (PID), which can result in infertility, ectopic pregnancy, and chronic pain. It can also spread to the testicles and cause inflammation and swelling, chronic pain and infertility. Chlamydia is also known to cause other complications such as arthritis.
Babies born to a parent with untreated chlamydia may develop eye or lung infections. Pregnant people are recommended to get tested early and late in their pregnancy if they are at risk of getting chlamydia.
Vagina
Often no symptoms, however if signs are present there may be:
Mild irritation or stinging when passing urine

Yellowish-white vaginal or increased discharge

Pain or bleeding during vaginal sex

Unusual periods or spotting between periods

Pelvic pain and cramps
Penis
Often no symptoms, however if signs are present there may be:
Discomfort or irritation at the tip of the penis

Mild irritation or stinging when passing urine

Clear sticky discharge from the urethra (not precum or ejaculate)

Swollen and sore testicles
Anus
Often no symptoms, however if signs are present there may be:
Itchiness and rectal bleeding or discharge.

Rectal heaviness

Pain when passing a bowel motion
Throat
Usually no symptoms, however if signs are present there may be:
Eyes
Conjunctivitis: sore eyes, swollen eyelids and a sticky discharge (that causes the eyelids to stick together when waking up in the morning)
Transmission
Unprotected vaginal, anal or oral sex

Sharing douching equipment or enemas

Docking or nudging, without condoms

Mutual masturbation and fingering or fisting without protection

Semen and vaginal fluids entering the eyes

Parent to baby during birth
Testing
While Chlamydia is the most commonly reported STI, it is really easily diagnosed and treated.
You can be tested for chlamydia by:
Providing a urine sample to be examined in the laboratory, or

Taking a swab of the cervix, urethra, anus, or throat.
Some health care centres allow you the option of collecting some of your own swabs, such as collecting your own cervix, urethra, opening of the penis and anal swabs.
The type of chlamydia test you need will depend on whether you are experiencing symptoms, the genitals you have, the type of sex you are having, and whether you are using physical barriers to prevent the transmission of STIs and BBVs, such as condoms and dams.
There is no blood test for chlamydia.
You can ask for chlamydia and other STI tests at sexual health services, some community-based testing sites, Aboriginal Medical Services and your local GP. Check out the Sexual Health Testing in Australia page for a list of sex worker friendly testing sites across Australia.
Treatment
Chlamydia is treated with antibiotics prescribed by a doctor. If chlamydia is detected early, it can be treated on the spot using a single dose of oral antibiotics. If the infection has progressed, then a longer course of antibiotics may be prescribed. Some antibiotics may interfere with the contraceptive pill, so extra precautions may be required to prevent pregnancy. Consult a doctor or nurse.
You need to get another chlamydia test three months after your treatment to make sure the treatment has worked.
Prevention
Use condoms or dams for anal, vaginal and oral sex. Point the penis away from the face during Spanish or hand relief to prevent semen getting in the eyes. Don't touch genitals or eyes with hands that have someone else's body fluids on them.
Although unlikely, it is possible to transfer chlamydia between sites such as your anus, vagina and throat via fingers or a condom. For this reason, if you are performing oral, vaginal and anal sex, it is important to get all the respective swabs and you should also change condoms when changing between oral, anal and vaginal sex.
Getting tested regularly for chlamydia can also ensure that a new infection is picked up early and treated quickly.
Note: it is recommended that you always change condoms when going from anal to vaginal or oral sex.