This post is also available in:

简体中文 (Chinese (Simplified))

ไทย (Thai)

한국어 (Korean)
Urethritis means inflammation of the urethra (the tube that carries urine out of the body). Non-specific urethritis (NSU) is any inflammation of the urethra that is not caused by gonorrhoea or chlamydia. NSU is also called non-gonococcal urethritis (NGU). It may cause inflammation of the cervix (cervicitis). NSU is a common STI which can be caused by a number of bacteria, such as mycoplasma or ureaplasma.
Signs and Symptoms
Content warning: click to show images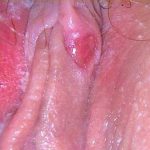 Penis
Slight white or clear urethral discharge
An irritation when passing urine
Swelling or tenderness in one or both testes
Vagina
Often no symptoms, but maybe a change in vaginal discharge
Pain and bleeding when having sex
If left untreated, inflammation of the cervix may cause Pelvic Inflammatory Disease (PID)
Transmission
Unprotected vaginal, anal or oral sex
Incubation period may be a few days or as long as six weeks
Treatment
NSU is usually treated with a course of antibiotics prescribed by a doctor. Continued or recurring NSU symptoms may require specialist treatment.
Prevention
Use condoms for oral, anal and vaginal sex.
Note: it is recommended that you always change condoms when going from anal to vaginal or oral sex.